We rarely mention soil when we talk about land. We are used to talk about land as property, as some sort of land ownership or real estate that clearly outlined boundaries and only with documents or certificates then you are allowed to enter. We read maps through the boundaries between countries, each line represented a border that was governed by militaries and carefully told stories for constructing a nations' ideology.
Land as data, Qbit and to Adam
Human adapts the way of occupying land and claiming ownership to the digital world, where now has paywalls, domains, and digital assets. The way we conceptualize the ownerships of the land as resource are now being translated into databases. Yet such translation is not reversible as the states of land always accompanies temporal and ever changing events with multi-dimensional cross-influences. Chansook Choi here proposes to re-conceptualize land as Qbit, with a coherent superposition of both 0 and 1 according to quantum mechanics.
Adamah is a biblical word in Hebrew as ground or earth, connects with Adam as human male using technics to cultivate the land. Men's relationship with land are legitimized through the most widely available publication in the world, where women making up as 43 percents of agricultural labor force, most of the land owners that registered on ownership programs are "head of household" which defines most commonly as a man.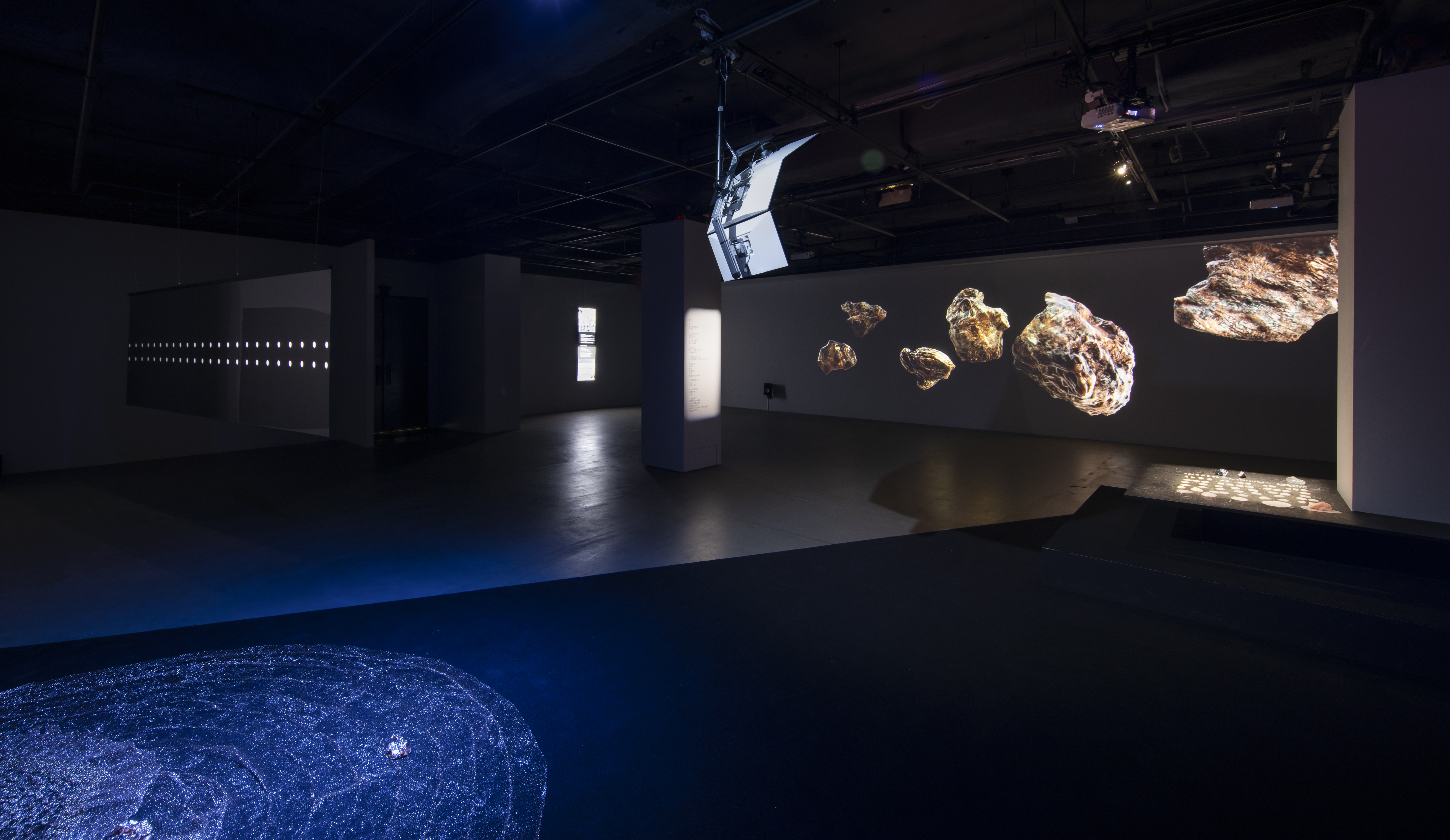 orphans,
widows,
aliens and
women
Pushed Away and Leaking Out
/ Artist note from Chan Sook Choi
Between the photons rhythm driven by electromagnetic movement and human migration traces, the artist describes the border to migrants as "the border in between the gap of possession and want being there, and not being there, existence and nonexistence.
In the electric massage chair, a swinging state is happening while a group of elderly women discuss their worries of war and protection in the propaganda village in Demilitarized Zone in South Korea. Even with 5G internet, with military bases nearby, and with their activities already functioning as propaganda, to these women who sing and praise the wonderful life brought by democracy, settlements and safety is not present, but need to be found at somewhere else unknown.
Not until the recent petition where the artist saw the woman's body and knees was kneeled down, has it become a final gesture to manifest that her kneeled body will no longer be taken away, deported, and is not destructible? Choi proposes possible ways to recover the grammar with mankind and the forgotten land. Not using technology on earth, but to connect her knees on the ground, with women's blood and flesh, leaking out and pushed away on the bottom of despair. It is perhaps becoming a language of expellee, adding together on the land that contains data collected from dead men's bodies, to create another valid quantum state.
Text : Yen Yi Lee / Curator
Photo & Video by I-Hsuen Chen
ARTIST TALK
Date: 22.12.2020 14:00 - 16:00
Speaker : Yen Yi Lee ( Curator) Chan Sook Choi ( Artist) , Muquiqui Chihying ( Artist)
Location: Digital Art Center, Taipei
Workshop of Artistic Research
This workshop designed for people who identified as female.
Date: 25.12.2020 13:00 - 17:00
Host: Chan Sook Choi ( Artist )
Planning: Yen Yi Lee ( Curator), Shihyu Hsu ( Curator of TCAC)
Location: Taipei Contemporary Art Center